Premium Easy Automatic Rivet Tool Set【Last Day Promotion】
-0 %
Premium Easy Automatic Rivet Tool Set【Last Day Promotion】
Description
EASY TO USE
Tool-free quick-change head design make it simple to change mandrels and nose pieces quickly without the need for additional tools, smooth your project and save your time.


DESIGN FOR SAVING ENERGY
Ergonomic handles with double compound hinges maximizing leverage and for easy operation. Delicate Shape heavy duty hand riveter is ideal for working in hard-to-reach areas. Great for off-road / Jeep modifications


STRONG AND DURABLE
The rivet nut tool is made from thick carbon steel with heat-treated, and black phosphating finishing protects against corrosion. With designed structure and tough materials, it is sturdy and durable enough for long-life performance.
Features:
Unique spring loaded inner

 hex sleeve automatically locks the rotation of hand installed mandrel

Made with durable alloy steel 

with rubberized handles for added comfort especially when used for extended periods

Great for sheet

 metal fabrication

3/25"(3mm) high-strength carbon steel

 handles makes the rivet nut gun more sturdy and durable,13 specifications to interchangeable mandrel meet the needs of work

13 American Standard Threads

 

Metric M3 M4 M5 M6 M8 M10 M12

 and 

SAE

 

8-32,10-24, 1/4-20, 5/16-18, 3/8-16,1/2-13

 interchangeable mandrel/nose bridge kits in various sizes. The M8 spindle is already on the tool, so the plastic box is empty.
Specifications:
Material of Model: Stainless Steel; 
Material of Rivet Nuts: Stainless Steel;
Size:
Model BT-609

: Length 15" [38 cm]; Handle 4" [10 cm]
Color: Black
Weight: 3.36 pounds
Interchangeable mandrel: Drill size: Metric M3 M4 M5 M6 M8 M10 M12 and SAE 8-32,10-24, 1/4-20, 5/16-18, 3/8-16,1/2-13.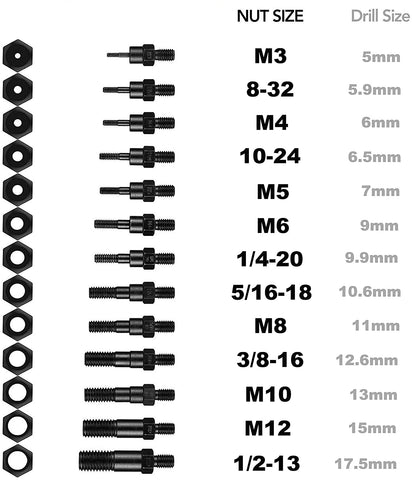 United States Standard Thread Rivet Nuts 130 pcs:

 For 

Metric

 M3(10pcs); M4(10pcs); M5(10pcs); M6(10pcs); M8(10pcs); M10(10pcs); M12(10pcs);SAE 8-32(10pcs),10-24(10pcs), 1/4-20(10pcs), 5/16-18(10pcs), 3/8-16(10pcs),1/2-13(10pcs);

United States Standard Thread Rivet Nuts 260 pcs:

 For 

Metric

 

M3(20pcs); M4(20pcs); M5(20pcs); M6(20pcs); M8(20pcs); M10(20pcs); M12(20pcs);SAE 8-32(20pcs),10-24(20pcs), 1/4-20(10pcs), 5/16-18(20pcs), 3/8-16(20pcs),1/2-13(20pcs);  

United States Standard Thread Rivet Nuts 520 pcs:

 For 

Metric

 M3(40pcs); M4(40pcs); M5(40pcs); M6(40pcs); M8(40pcs); M10(40pcs); M12(40pcs);

SAE

 8-32(40pcs),10-24(40pcs), 1/4-20(40pcs), 5/16-18(40pcs), 3/8-16(40pcs),1/2-13(40pcs);  
Package Includes:
1 * Premium Easy Automatic Rivet Tool Set
FAQ:
Question: How long does it take to arrive?
Answer: The standard shipping is 10-15 days, the Express Shipping is 7-10 days and the VIP shipping is 5-7 days.
Question: Where can this product be applied?
Answer: Wide Applications - Provide a customized fastener solution for wide riveting applications, such as body panels, fiber glass, bicycle attachments, furniture and decoration, especially for off-road / Jeep / Pickup trunk / Boat modifications.
Question: Do nuts have to be used with this tool?
Answer: No, here's trying to express is that rivet nuts can't be used without any tools like this, but who would refuse such a portable, labor-saving and safe tool?Question: Will this tool cause deformation of the bearing suface when use?
Answer: No, as long as you use it properly in accordance with the instructions, it will not cause any damage to the surface.